A high court in the state of North Gauteng, South Africa has in a sentence come to t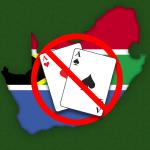 he conclusion that all types of online games with money involved are forbidden.
The decision will take affect immediately all over South Africa. The new law means, for example, that's is no longer
possible for anyone in South Africa to play poker or organize poker tournaments online.
People who break against the new law will get huge fines and also risk time behind bars. The max penalty, however, is a R10 million fine and up to 10 years in jail, or both.
Please write your personal thoughts on the ban of online gambling in South Africa. We are also interested to hear from people who live in countries (Thailand, USA, Dubai, Japan etc) where it's not allowed to play for money online.

Source - http://www.bankrollmob.co.uk